A new week — a new Market Wrap by the Afford.Capital team. Without further ado, let's dig in.


Bitcoin Price Action & Insights

BBG Research spotted a "Hammer Candlestick" on BTC 1D chart. They hint that the chances for the upcoming crypto rally are up.

Bitcoin reversed a 5% drop October 13 to end more than 1% higher. Since late 2018 it averaged 19% gain 60 days after such a move.

This "Hammer" was formed due to the recent inflation report in the US last week
Earlier, on October 13 (the inflation report date) a massive simultaneous LONG entry in BTC futures on the Binance and Bitmex exchanges was noticed.



Also, Glassnode Weekly Overview on the crypto markets: currently, the volatility in BTC has fallen to an All-time Low. open interest in BTC derivatives grew to a new record mark. The market is on the verge of a surge in volatility.

Deflation in BTC with each halving - dynamics



The great chart to think about — the dynamics of Bitcoin inflation after each halving.

💡 More about halving: After every 210,000 blocks mined, or roughly every four years, the block reward given to Bitcoin miners for processing transactions is cut in half. This event is referred to as halving because it cuts in half the rate at which new bitcoins are released into circulation.

All fiat currencies have the exact opposite situation.


Weekly Crypto Asset Inflow & Outflow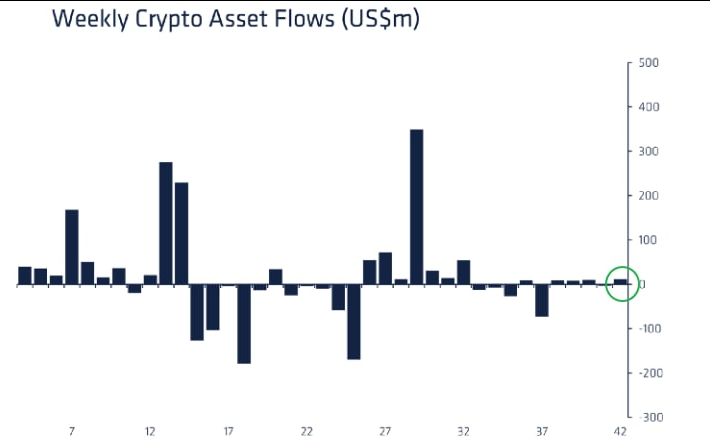 Coinshares Weekly Report on financial flows in crypto products: insignificant inflow = + $12M.

💡 During the last week:
Bitcoin-focused crypto products = inflow = +$8.8M
Ethereum-oriented crypto products = negligible outflow = -$3.9M

Considering the meager inflows into crypto products over the past 2 months, the market is now experiencing a high degree of uncertainty. This is why Afford.Capital invests in products at their early stages, aiming to extract the best opportunities. The teams behind our portfolio startup are working hard behind the scene, reaching new development milestones & major updates despite the current environment.


Blockchain Venture Investments and Key Areas

The Block Research: Blockchain venture funding falls for the second consecutive quarter from its All-time High mark. However, these inflows are way higher compared to 2020-2021.

The top-3 fields of investment remain untouched for the last several quarters:

NFTs/Gaming
Crypto Financial Services
Infrastructure

These key areas of investing are perferct match with Afford.Capital — we invest in extremely promising startups and future Unicorns. All of them are carefully vetted via our unique scoring system with 220+ parameters inside.

Curious to learn more? Book your consultation, and we will loop you in.
👉 BOOK A CONSULTATION